La Rentrée: From the French going AWOL to A/W fashion
No doubt that you've heard of 'la rentrée', blazoned across newspapers, commercial adverts and every other form of public media possible during the end of August and throughout September in France. It's a little like the overused phrase, 'back to school' in English, except la rentrée is not merely reserved to schoolkids and teachers. The true meaning of the word has no English equivalent, but a literal translation helps us to understand its cultural significance ; la rentrée translates as 'the return', the return to work and reality in September after weeks of holidaying, more often than not in the sunny South of France. For those familiar with the French mode de vie, you'll understand that August is like a month long of Sundays. Traditionally, many French businesses close for a week or two in August for the holidays (it's best to avoid sorting out administrative issues during this month). There is even a 'rentrée politique', when the new parliamentary session reopens in autumn. Yes, even the French government goes AWOL during the summer.
In short, la rentrée is more than a temporal reference for the start of autumn that pretty much holds a symbolic sense of revival and new beginnings. In terms of culture, la rentrée in September seems just as important as the New Year itself, if not more. Here are a few cultural happenings that make this so.
Flea markets
September is all about fresh new starts. Out with the old, in with the new. Quite literally, as the several hundreds of flea markets and car boot sales (vide greniers and brocantes) happening this month throughout France would suggest. For example, La Grande Braderie in Lille on the first weekend of September fames itself as the largest in the country, attracting over two million bargain hunters each year! The market tradition here is deeply rooted in French culture, dating back to the twelth century where sevants sold their employees old goods as part of the Feast of Assumption Festival. From small villages to cities, flea markets are one of the highlights of communal life in September.
In Paris, more or less every arrondissement holds at least one type of special market event in September, whether it be general bric-a-brac, antiques, vintage clothing or local produce. As Que Faire à Paris boasts, this rentrée promises a real 'marathon' of flea markets and marchés gourmandes!
It's safe to say that flea markets become a sort of national sport during this month.
Check out this site to find the thousands, yes thousands of flea markets taking place all over France this month !
http://brocabrac.fr/
La rentrée litérraire
Numerous French 'intellectuals' complain about the so-called 'americanisation' of their culture. In some senses, the ever growing anglo saxon influence in France is undeniable. Primo, the French Cesars film festival gets overshadowed by the Oscars, (Le Nouvel Observateur, Le Monde and Le Figaro dedicated front page e-articles to that Ellen DeGeneres selfie). Secundo, it is sometimes difficult to distinguish a French pop radio station from an American one. Tertio, even la nouvelle mode of burger restaurants in Paris seems to betray traditional gastronomical habits. Examples are sans fin.
But when it comes to literature, the land of Molière and Flaubert remain firmly protective. No country values literature and language like the French; the Académie Française has been officialising the language since the 17th century, there is a national fixed price on books, and bookshops in Paris are about as numerous as say, Starbucks in New York.
The annual rentrée litteraire in September is a much awaited affair, and this year in particular 'promises to be flamboyant', according to L'Express magazine. An impressive 607 new books expected to be published! Quite naturally for the French, we can expect the same number of critical reviews to accompany these new books too. The prestigious literary prizes, including the Prix Goncourt, Médicis and Renaudot, amongst several others are awarded in September. La rentrée really is the Christmas of the publishing world.
For all of us language lovers, la rentrée littéraire is a fantastic opportunity to discover contemporary French literature and learning French grammar not out of a Bescherelle or Petit Robert.
Have a look at the official Rentrée Littéraire site to discover this year's unmissable books, audio extracts, the authors
'du moment'
and more.
www.rentree-litteraire.com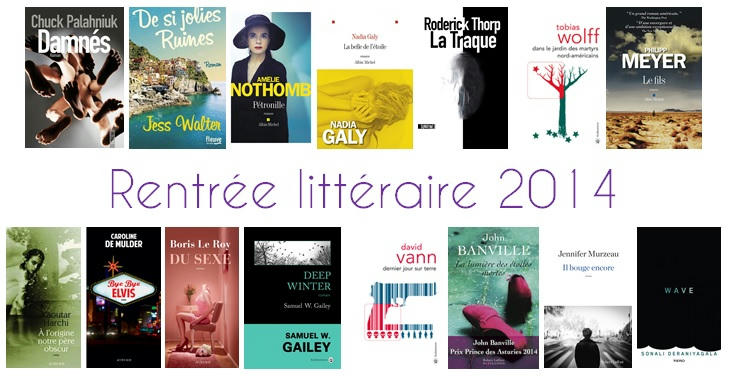 September, a.k.a, le mois de la mode
As the home of prestigious fashion houses Chanel, Dior and Yves Saint Laurent, the Paris Fashion Week, held semi-annually at the end of September, is a crucial event in every fashionista's calender. France may have lost its position as a global leader in many economic aspects, but the country who invented chic continues to lead the global luxury goods market. With 130 out of 270 global prestige brands being French, according to the Paris Ile de France Chamber of Commerce, their dominance is confidently secure. French fashion is not only a national source of pride, but an economic necessity.
As the home of timeless fashion houses such as Chanel, Dior and Yves Saint Laurent, the Paris Fashion Week, held semi-annually at the end of September, is a crucial event in every fashionista's calender. Unlike other international fashion shows, the Parisian one is organised by a national fashion federation, la Fédération Française de la Couture du Prêt-à-Porter des Couturiers and Créateurs de Mode, rather than sponsored by huge automobile or phone enterprises. This makes passion and patriotism the key inspiration, rather than financial profit. The capital may take centre stage here, but the French fashion hype in September resonates internationally. Year after year, the global fashion industry and press unite in the City of Lights to marvel the silks, sparkles and shimmies from the most celebrated French couturiers.
Whilst most of us mere mortals may be out of touch with this exclusive world of fashion, the desire for a new wardrobe come September is a natural feeling for the most part of the female population. (Perhaps this goes the same for males too, this is France after all...) With the September issue of all women's magazines being fashion special editions, and must haves for la rentrée being displayed in every clothing store window, emulating Birkin and Bardot seems like the obvious thing to do.
So there we have it. La rentrée, yet another untranslatable French word loaded with meaning!
Image 1 www.img.over-blog-kiwi.com/300x300/0/95/41/15/20140813/ob_e3d7d0_rentree-scolaire.jpg
Image 2 www.dixhuitinfo.com/IMG/jpg/vide_grenier_sainte_isaure_800_3.jpg
Image 3 www.mediafire.com/convkey/6077/obb5zkfr5op1gxr6g.jpg
Image 4 www.lestendancesdunebobo.fr/wp-content/uploads/2013/08/une-rentree-riche-en-mode.jpg