How to Prepare a Traditional French Christmas Dinner
The festive month has finally arrived!!! Seeing as we're in the country of serious foodies, planning what to eat during this month is as essential as gift buying. The French Christmas dinner is pretty different to Anglo- Saxon traditions, which more or less means that it's not all about goose-fat laden-roast-everything and desserts swimming in custard. Sure, the French love their gastronomic indulgence, but not the excess guilt that their Anglo-Saxon voisins know all too well. Are you curious about how they do the most important dinner of the year? Or do you need a few ideas if you're hosting the festive affair this year? Check out our dinner plan, with mouth watering pics and French-English translations, and wine suggestions!
Apéritif- aperitive
Of course, champagne must be popped at the beginning of the feast ! Kir Royal is also a common aperitive. This is a little cocktail of crème de cassis et bourgogne aligotée, blackcurrant liquor and white wine from the Bourgogne region.
Amuse-gueules / amuses-bouches Nibbles
To accompany the aperitives, appetisers are served, and can be anything from peanuts, to fancy canapés. Funnily enough, amuse-gueules also means 'small talk', which hopefully, there won't be much of.
Here are a few of our favourite appetisers:
Blinis au saumon fumé blinis with smoked salmon (Try with a white wine such as Sancerre, Pouilly Fumé, Quincy, Reuilly (Loire) or Muscadet, Gros Plant (Pays Nantais)
Tartelettes au chèvre et tomates cerise Tartelettes with goats cheese and cherry tomatoes (A dry, light white wine, ideally Côtes de Provence)
Macarons salés Savoury macarons. Try 'marcarons figues et foie gras', or ' macarons chevre miel' , which are fig and foie gras, or goat's cheese and honey macarons. Délicieux!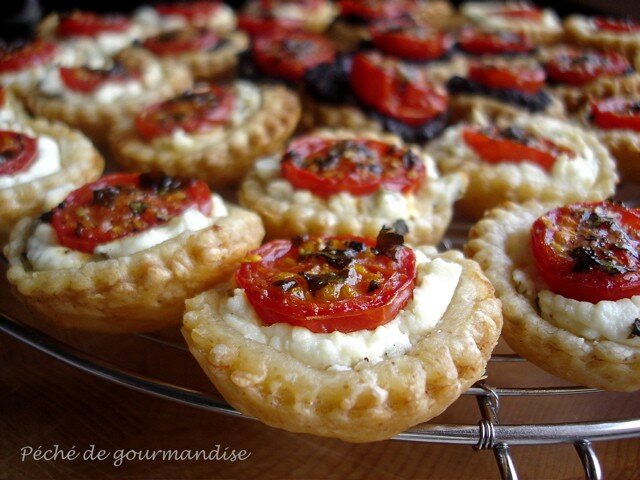 A frozen foods supermarket called Picard sells some lovely ready-made appetisers for those of you who want your cheat your way to creating the perfect Christmas dinner... For you British readers, you may think of Iceland as the Brit alternative to Picard, but this would be wrong. Picard sells rather up-market, fancy goods and can be quite pricey and you won't ever find a French version of Kerry Katona advertising them.
L'Entrée starter
Huîtres Oysters. Raw or cooked, they're both délicieux for those who enjoy them! (Alsatian Riesling, Côtes de Bergerac, Muscadet from the Loire region)
Toast au foie gras et pain d'épice Spiced bread toasts with foie gras is a must have starter at any festive French dinner. Try with fig puree or chutney or onion jam. (This must be accompanied with sweet white wine, such as a a vin blanc moelleux Jurançon)
Escargots au beurre d'ail Snails with garlic butter is also something every Frenchman eats this season! (A Bougogne aligoté goes down a treat with snails)
Coquilles Saint Jacques Scallops (Corbières (Languedoc Rousillion), Muscadet (Val de Loire or Centre))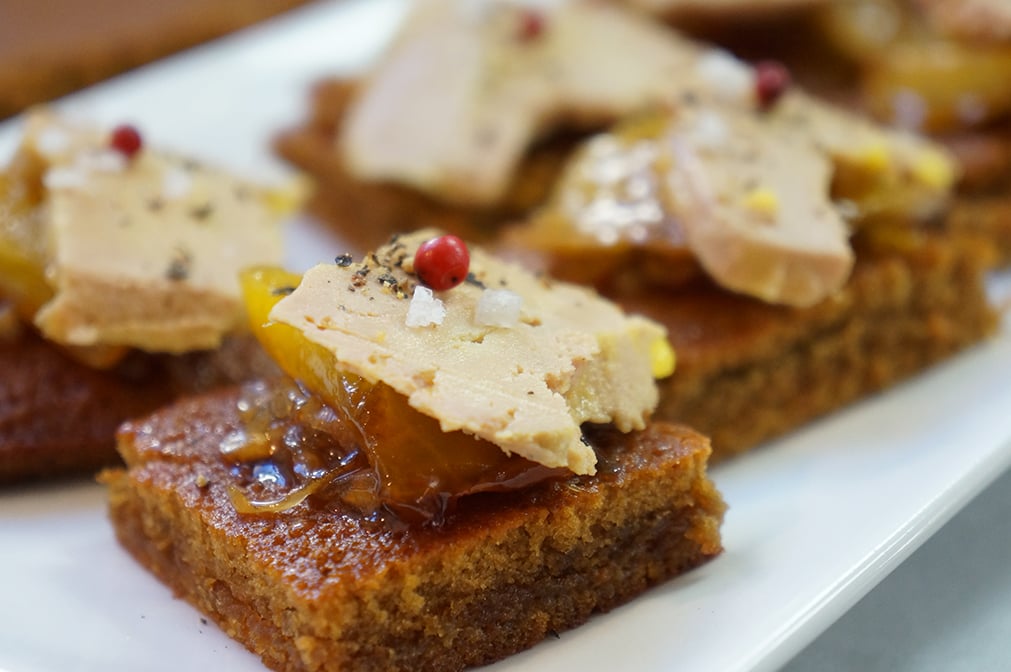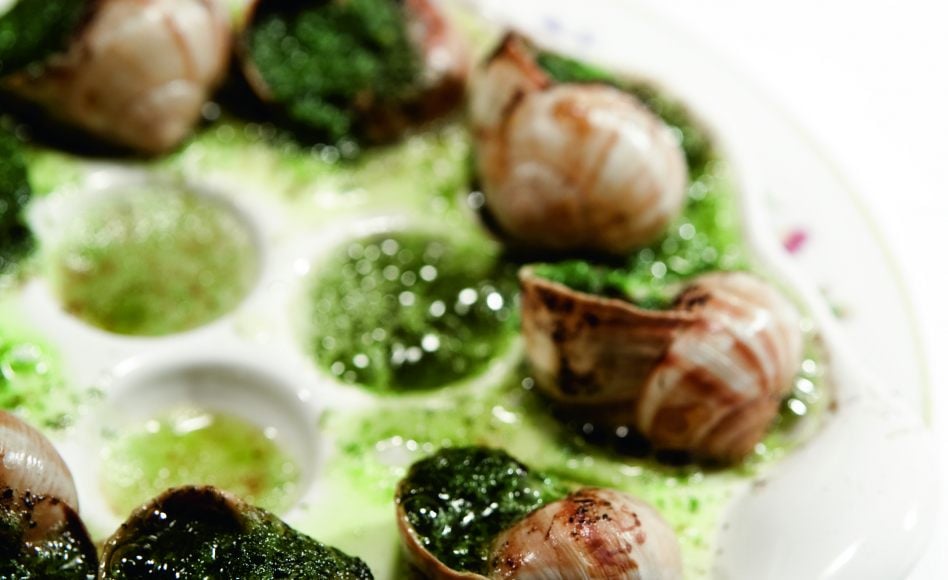 Plat Principal Main course
The main dish varies from region to region, or even from family to family. Generally speaking , you'll find a roasted meat, usually poultry as the centre piece of the dinner table.
Dinde aux marrons Chestnut stuffed turkey. This is the most classic Christmas dinner dish! (Light red wines, Côtes de St Mont, Buzet (South West), Vin de Corse Patrimonio, Sartène, Ajaccio (Corsioa), or Bourgogne, Mâcon Cruzille, Hautes Côtes de Beaune (Bourgogne)
Chapon farci Stuffed rooster. Try with pear stuffing and and fig sauce. (A dry red such as Margaux, Pomerol, or Pessac-Léognan rouge)
Pintade Guineafowl. Lovely roasted with prunes, or apple and chestnut. (Pinot Noir from Bordeaux or Alsace)
Magret de canard duck fillet. Duck works very well as a sweet and savoury dish, so try it with honey, apricots or apple. (Serve with a strong red wine, such as; les a Côte de Nuits de Gevrey Chambertin, Morey St Denis, Fixin ou Marsannay or reds from la Côte de Beaune (Volnay, Pommard)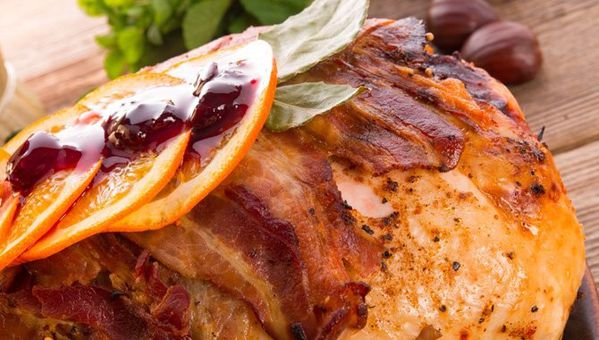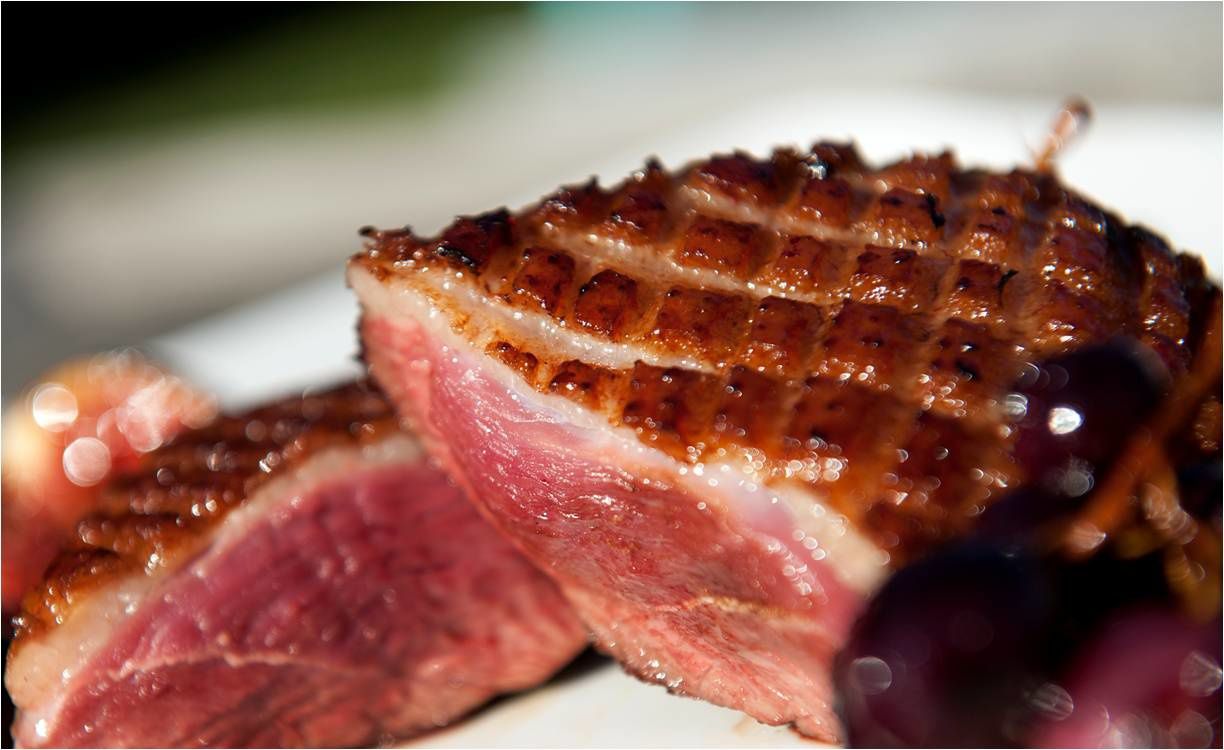 Accompagements Side dishes
This could be any sort of boiled or roasted seasonal veg, but here are a few ideas:
Asperges grillés Grilled asparagus
Gratin de pommes de terre ou de courgettes Potato or cougette gratin
Haricots verts Green 'French' beans
Some families choose fish instead meat as the main dish, or maybe prefer to go all out and have both. It is Christmas after all...! This could be anything from the following;
Homard Lobster (with pincers) (Perfect with a white Puligny Montrachet from Bourgogne)
Langouste Lobster (Hermitage blanc or Château Grillet from the Rhône region)
Langoustine Large prawns (A good, acidic white wine such as St Véran or Chablis (Bourgogne), Valençay (Loire) or Irouléguy (South West )
Gambas Large shrimps or Crevettes Prawns (a classic Chardonnay such as Chablis goes well)
And so the marathon dinner continues with a refreshing salad and fromage. Atleast three different types of cheeses are served on a board, of which can be made from;
Lait de vache Cow's milk
Brebis Female sheep
Chêvre Goat
Dessert !!
Also known as...Le clou de la soirée, the highlight of the evening. There is only one dessert that needs to be served, and this is the anticipated Bûche de Noel, the French Christmas Yule log.
A French Christmas dinner can not be complete without a Yule log cake. There are so many variations available today, but the classic is made of sponge cake rolled into a cylinder, with layers of chocolate buttercream and sprinkles of white icing as decoration to imitate snow. Some families opt for a fruity, mousse or ice cream version of the bûche, which may understandly all that the stomach can take after hours of gastronomic indulgence.
There is however, always enough space for champagne, bien sûr...
Image credits
Kir Royale thesimplifiers.com
Saumon speedrecette.fr
Tartelette pechedegourmand.canalblog.com
Foie gras hervecuisine.fr
Macaron journaledesfemmes.fr
Huîtres oleron-plage.fr
Escargots academiedugout.fr
Coquilles st jaques nhfaithfusion.com
Dinde http://quilaztli.over-blog.com/
Canard focusonthemiam.over-blog.com
Gratin matvpratique.fr
Homard avis-vin.lefigaro.fr
Gambas wecook.fr
Buche lookmag.look-voyages.fr