Top sweet delights from a French supermarket
Whether you're a francophile or a proud French native, 'everything is better in France'/ 'tout est mieux en France' is probably part of your common conversational language. There may be a few exceptions, like the Parisian metro or efficient administration, but generally speaking, most things are better à la française.
Living in France, constantly comparing daily life here with England has become second nature to me. Seeing as food is also always on my mind,I am forever reminded about how food variety and quality seems to be better here. I particularly enjoy supermarket shopping, where an exciting trip of discoveries can be made out of a mundane task. Here, I shall share with you some delicious treats found in pretty much every French supermarket that must be tried.
Direction rayon des produits sucrés, bien sûr!
(Straight to the sweets aisle, obviously! )
Here is my recommended shopping list for the sweet toothed, along with a few recipe suggestions too.
Petit Ourson Guimauve
These bear shaped marshmallows enrobed in chocolate are cult classic favourites for gamins and grown ups alike. As with Pombear crisps or Haribo gummy bears, I always bite off the head first for some reason. But with these little Oursons, munching into the fluffy marshmallow centre as the chocolate melts on your tongue is a lot more satisfying. Check out the official Petit Ourson website for recipe ideas, such as tiramisu, panna cotta and mousse à la panna cotta. Or, if you're not the most gifted cook, these little bears make the ultimate hot chocolate topping. A Petit Ourson toastie is not a bad idea either...
www.petitourson.fr/les-recettes/
Carambar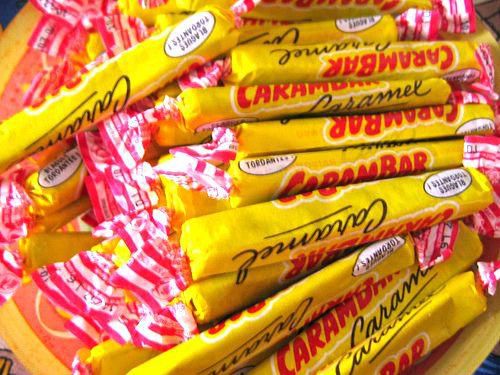 Here's another bonbon with cult classic status. With an average of one billion Carambars consumed every year in France, these little chocolate caramel sticks are well and truly loved by the French. Eaten alone, they are a wonderful (and addictive). But using them to make desserts is just beyond sweet heaven. Melt the caramel sticks on a stove and use the syruppy goodness in cakes, apple tarte tatins, mousses and more. The Carambar is a very versatile little wonder that can be made into just about any dessert. I'd bathe in it if I could.
Find some rediculously good recipes here
www.lesfoodies.com/recettes/carambar
Family sized madeleine packs
A madeleine is basically the classy French sister of the plain Jane sponge cake. Chances are you've eaten them already, but here is just a reminder of how magnifique they are! And that you can get family sized packs of them in just about any supermarket! Whilst the Bon Maman brand never fails to deliver the most scrumptious gâteaux, try the more authentic Madeleines de Commercy, Commercy being the little town in Lorraine where madeleines originally come from.
Lotus Speculoos paste
Move over Nutella, the Lotus speculoos paste is the new kid on the block, or supermarket aisle rather. Made from the Belgian speculoos biscuit, a crunchy bown sugar and cinnamon biscuit, this is a wonderful alternative to the average chocolate spread. Spoon some of this gorgeous stuff onto fresh bread, into hot milk or like me, straight into the mouth... Alternatively, here are some fancier ideas for all you foodies.
http://www.lesfoodies.com/recettes
Yoghurt , yoghurt and more yoghurt
The yoghurt isle in a French supermarket is a godsend for all yoghurt lovers. Whereas a British supermarket seems to favour unsatisfying low fat yoghurts, here in France, yoghurt is just not worth eating if it's not the real deal. Full fat, full flavour. I'm a fan of the Mamie Nova brand in particular, who seem to have invented every dessert flavour under the sun. Forget zeo fat Muller Light..It's all about the salted caramel liegoise, pistachio, lychee and raspberry, chocolat noir intense...Need I say more?
Bon app!
Image credits
1) radins-gourmand.fr
2) lacuisinedangie.over-blog.fr
3) chocobea.fr
4) popcerise.fr
5) lesbonsplansdenaima.fr
Cover image) petitourson.fr